TREND REPORT FW20/21: WOMEN'S
It's that time of the season where we round up the hottest trends. Don't feel like searching for all the runway shows? No worries, we've got you covered. From Paris, London, New York to Copenhagen, we did what we do best and did the research for you. Meet the trends you'll be loving for the fall season.
Acid Baby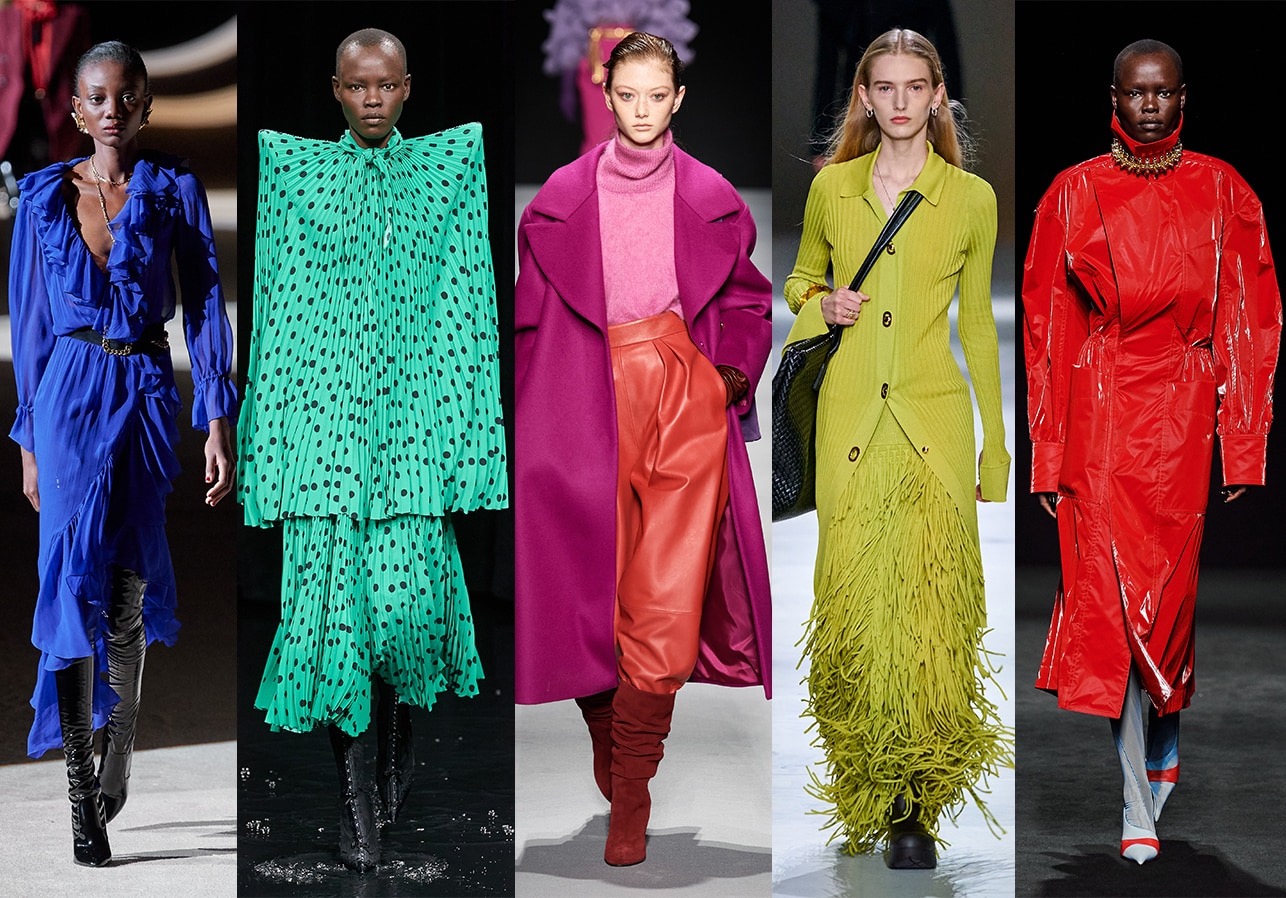 Make a statement in bold colors reminiscent of an acid daydream. Neon green is still here to stay but with an array of shades to match. From vivid oranges, hot pinks, out-there teals and the ever-so-loved royal blue. This season our luxury favorites look to a new tone of life. Ready to shop the look?
Back to Business
We've been at home too long. Whether you're still smart working or slowly easing back into the 9-5 routine in the office, one thing is sure: Business looks are back. From power suits that are sexy to soft-tailored sets, we're ready to make moves again. Pieces that are here to stay? The coveted blazer and pants. New front-runners? A powerful skirt and shorts will be your new power look.
Barely There
Less is more. The weather is rising and with it, we're piling on less. Inspired by lingerie looks, barely there is here to spice up your wardrobe. Corsets, bras, tie-up tops, and jeans that show a little more will be everywhere. Be brave and wear them on their own or layer pieces over your essentials for a more toned-down aesthetic.
His and Hers
When Harry met Sally is on our most-loved movie list. So is the borrowed from the boys look. Feel empowered and strong in clothing taking a hand from men's fashion. From oversized blazers, tailored pants, and letting loose. Break out those boyfriend jeans and pair them with your favorite new trend to stand out from the rest.
Minimal
Less is more. One trend that is here to stay? Minimal. The runways continue to be filled with barely-there accessories and revisited streamlined silhouettes. Defined by the sleek lines of the 90's, designers are looking to a more refined look. From strappy slip-dresses to neutral tones and loose tailoring, the new basic is as polished as ever.
New Details
Embellishments, please! On the contrary to less is more, new details are also taking over. From fringes, sequins, and sultry lace, and all things nice. Take a walk on the opulent side this season with an array of details to make you stand out from the crowd.
Volume
"Go big or go home" Add some envious drama to your look. This season we spotted diverse versions of volume all over the runways. From exaggerated sleeves and puffy necklines to full-swing skirts. Oversized dimensions compliment beautifully paired with a slimmer shape. Perfect to emphasize your favorite parts, the volume trend is going nowhere.