TREND REPORT FW20/21: MEN'S
It's that time of the season where we round up the hottest trends. Don't feel like searching for all the runway shows? No worries, we've got you covered. From Paris, London, New York to Copenhagen, we did what we do best and did the research for you. Meet the trends you'll be loving for the fall season.
Back to Business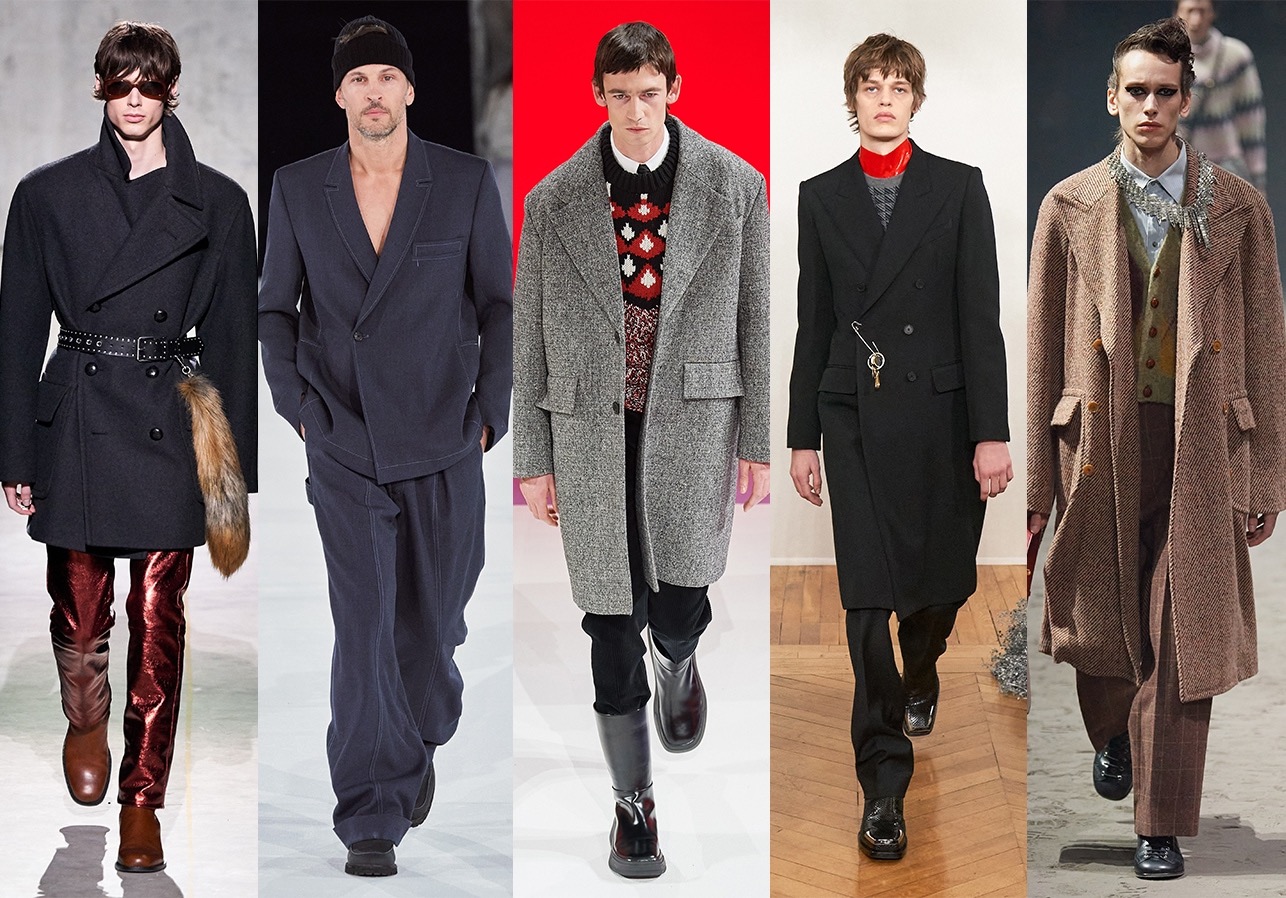 'Business as usual'. Despite ongoing trends and new introductions each season to the runway, one thing stays constant and continues as normal: suiting. Men's suiting is as sleek as things go when it comes to dressing, and who knew an array of styles could be as appealing as these latest additions? Double breasted jackets and perfectly pleated slacks fused with daring embellishments in metallic shades are exactly how this never-played-out trend got a makeover. Play around this season with your business ready look and we promise you won't regret it.
Bold Shoulders
Ten years ago who knew that in 2020 we'd be repeating to ourselves that shoulder pads are cool. Not only did shoulder pads reign over the 90s, it's now owning the new decade. Nothing says 'get out of my way' like bold and striking shoulders. Whether you're looking to simply own the streets in a tweed tailored jacket, or are looking to make it the highlight to your Fall wardrobe, this geometric shoulder trend is the most daring trend of them all for FW20/21.
Crazy for Prints
We're sorry, but not really. Prints aren't leaving and will definitely be staying around as long as colors continue to exist. Lovely thing about prints? Well they are probably the most universal trend around thanks to their ever-evolving qualities that take on new and innovative designs each season. Jungle themed button downs and cartoon-inspired sweatshirts, prints are fun and exactly what you need this season to spice up your wardrobe. Best part about them? You can never go wrong, as prints are subjective: if one person doesn't like it, the next one will.
Minimal
As the entire globe is starting to repurpose and redefine simplicity, so are we when it comes to our wardrobes. No longer do we want to compulsively buy that sweater we debated for hours. No, this time we are looking to take things back to basics and decorate our lives with things we know will last a lifetime. That sweater that goes with everything? Awesome. The trench that seems to be in style every season? Perfect. What we need is getting re-evaluated and the results are simply stunning: chic, sleek and clean. Minimal is the way to go.
Smells Like Teen Spirit
FW20 looks like everyone decided to borrow Kurt Cobain and Courtney Love's love for grunge. Not only can the destroyed and distressed looks of this theme look as glamorous as it's minimal counterpart, it also looks badass. Ever wonder how some people can seamlessly pull off an 'I don't give a shit what I look like' look? This is the answer. Mix-n-match the looks with some of your favorite tailored staples to elevate the look even further. Sexy, rebellious and utterly cool, look to grunge this season to be the center of all attention.
Utility
If you're not the Rock'n'Roll type and define yourself to be a bit more on the contemporary side of things when it comes to wardrobe selections, well Utility is your best friend. Pockets galore, camouflage prints, tailored street-ready slacks and technical fabrics that'll leave you feeling like a weightless superhero, Utility is pretty sexy. Not only can you pair the looks with more office-ready staples, you can also play it down for more casual outings. Looks to brands like BLANK, BLANK and BLANK to master the look to the T.